Strategies for Leaving and Arriving Home
2011

A six-week performative walk in which I relocated 880 kilometres from Melbourne to Sydney in the winter of 2011. I On my back I carried a tent, a sleeping bag and a four-day supply of food. As no 'official' walking route exists between these two cities, I mapped out my own path, choosing to follow the train line as best I could. When this was not possible, I followed the Hume Highway. I walked approximately twenty kilometres per day. I had no support vehicle; instead, I invited people to be my support by walking with me or joining me via the project blog.

In addition to documentation presented through essays, maps and the blog, I have included images of people who participated in the project by either walking, offering accommodation, food,a lift, or passing conversation and local knowledge. The inter-personal affective relations experienced in this exchange expose a vulnerability found within the embodied image of this walk: a woman walking alone along a highway. In turn, this mediation changed the process of the walk and thus shaped the nature of the project.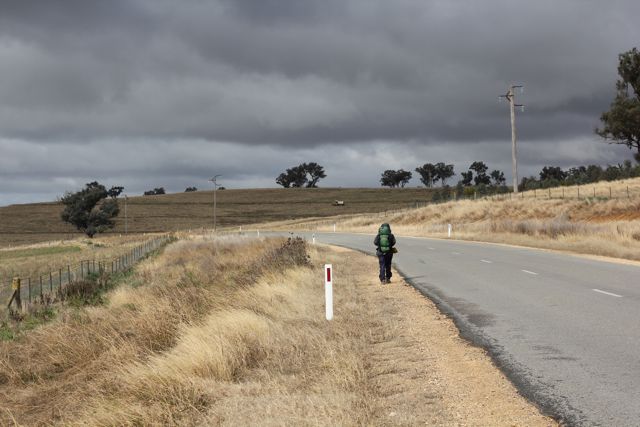 Photography: Adeo EsplagoPresented: Performance Space Sydney, Monash University Museum of Art, Melbourne and Artspace, Sydney
 as part of
Art as Verb
.